Hello Everyone!
Firstly, thank you, thank you, thank you for the amazing posts this week and for making this the biggest and best week of #LiFE yet! It was a perfect anniversary week and I'm so grateful for all the lingerie love and kind words you shared. But the pictures! Ooof. So lovely. Such variety, and such confidence. And some new joiners, which is really awesome.
If you haven't seen the whole Lingerie Is For Everyone family in their best and most sexy, do check out all the awesome contributions this week. 
This week's Round Up volunteer is @_MastersEye who is a dear friend and fellow blogger.  Here's the blurb she included about herself, and her picks for the week are below.
Eye is insatiably curious, a deep-end jumper-inerer, and a autocorrect wrestler on both twitter and in her writing.  On her blog, which can be found at www.cleareyedgirl.net , she produces content based on images, words and moments.  She is frequently NSFW and makes no apologies for it.  Join her there and on twitter (@_Masterseye) as she looks at the world with a cleareye and a crooked grin.
I am a late lover of lingerie.  For most of my life I felt too self conscious about my body to enjoy wearing it or being seen in it.  Luckily life has changed and now I am an enthusiastic lover of it on me and on other people.  I am also fortunate to have been given some lingerie by kind followers on Twitter and this added an exhibitionist frisson to my enjoyment as I post pictures of myself in them for their enjoyment.  I have participated in Violet's project since the start and am delighted to have the opportunity to share my three favourites with you this week which also happens to be the 52nd week this has been running.  So, many thanks and congratulations Violet for this marvellous meme that brings us all lingerie joy every week!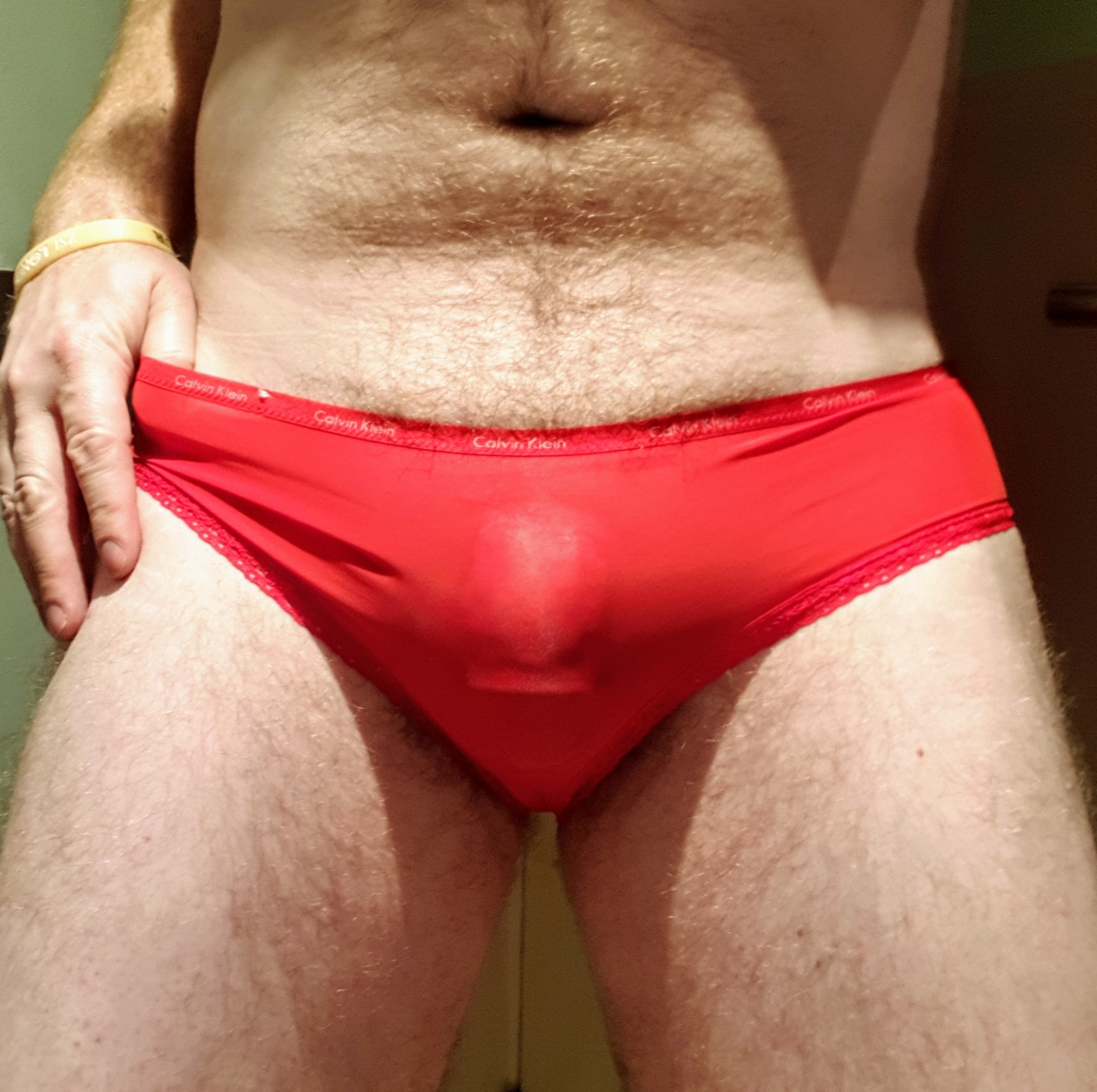 What could exemplify the project more than the picture of these red pants on @exhibitunadorned ? Lingerie really is for everyone and it is so enjoyable in all senses of the word to see penis wearers () getting in on the act too (click here for the original post)
I saw this post come up on my TL during the week and loved its sheer joie de vivre and the juxtaposition of the lovely knickers, the excellent legs and the funky trainers.  It exudes enjoyment and positvity  (click here for the original post)
This post is so lovely.  From the unusual palette to the gorgeous lingerie and necklace and that totally desirable nipple.  I loved it all and it is a beautiful example of the wonderful images that are being created by those participating in the project  (click here for the original post)
Thanks for asking me to take part in this Violet.  I hope you enjoy my choices and keep participating.
A big thank you to Eye for her insights and for letting me use her image from this week's #LiFE post as the featured image for the round up. As always, links open on Monday and everyone is welcome to join in. The Round Up volunteer for next weekend is our resident bawdy, beauty from Berlin: Joy! Check out her blog and follow her on Twitter!
Have a great week my lovelies, and if you want to keep celebrating LiFE's 1st bday with me, feel free to buy me a coffee to help keep the site running and the lingerie flowing. Thanks!