When first I saw The Crucidix, I almost spat out my coffee. I was on Twitter, and it was an image that had been retweeted onto my timeline and I knew I had to know more. I immediately followed their account and began my obsession with this weird and wonderful toy. As it turns out, The Crucidix is the brainchild of a friendly Southern Gent named Wayne who makes these ridiculously whimsical 4-way dildos. Yes, you read that right: 4- way dildo. Four dildos in one, and as The Crucidix etsy shop states: it is a dildo for any occasion. I tweeted at Wayne that I needed one in my life, but only if it was violet in colour (naturally!) and he messaged me and we discussed him making me a custom violet Crucidix to review. Several months, and some wild positions later, I'm excited to tell you all about this wacky quad-cock and why I love it.
It's always a party with these guys
If you have read my toy reviews before you will know that I name all my dildos. In the case of The Crucidix, four dildos means four names. The Crucidix clearly takes it's name from "crucifix" and staying with that religious theme, I settled on referring to them collectively as The 4 Horsemen (of the Apocalypse) which is apt when you think of the themes: Conquest, War, Famine and Death. Maybe it's just me that conflates sex with these concepts? Perhaps I have a religious dogma kink brewing … Anyhow, moving on …
I do love the design of The Crucidix, and believe me, it is a serious chunk of hand cast silicone. They are hand poured to order in the great state of Georgia (there's a peach joke in these somewhere!) and if 4 dildos in one toy is too much, there is now a flexible friend called The Ducidix should 2 rubbery cocks in one be more your speed. The Crucidix is a beast: hefty and hearty, weighing in at over 1.5 pounds, crafted with stimulating veins and well defined heads. All 4 of the dildos are identical and it is surprisingly flexible for solo or group play.
One size fits all/many The Crucidix measurements are as follows: each of the four 'dix are 6.5″ long and 1.5″ wide and tip-to-tip it's 14.5″ long in both directions
This is a firm yet flexible toy that has enough rigidity to be pleasurable and enough flex to make it practical. It's made from premium grade silicone and hand poured and trimmed and comes in a variety of colours including glow in the dark which would honestly be perfect for a spooky Hallowe'en sex party. The Crucidix isn't harness compatible, but it's very versatile and it is fun to use and easy to clean with your favourite silicone toy cleaner or soap and warm water.
My Experience
I've tried this dildo alone and with a partner and I have loved it in all applications. What I might like most about it is that because it has multiple ends, it makes the switch from vaginal to anal play and back again no big deal (I like to designate which is which, or which is for whom if partnered, by rolling a cockring down to the base so at a glance, or by feel, it's easy to keep things clean and organized.) For my body, the texture of the veins is lovely but not overly intense, the girth is fabulous – that *perfect* thickness that's satisfying but also not overwhelming, the length gives lots of "double ended" opportunities, and the firmness is excellent. My only criticism of The Crucidix is that as much as I love the uniformity and symmetry of the design, from a practical application point of view there's an opportunity here for a variety of sizes to meet more demand. If the four dicks were all different it would be the Swiss Army Knife of dildos. And who doesn't want that?!
Ways to use your Crucidix
as a double ended dildo with a friend
as two double ended dildos with 3 friends
three people in any combination
alone – yes this may seem like overkill but it's a great toy to masturbate with, especially if you prefer a longer reach with dildos or have mobility challenges – you can literally use two of the phalluses as handles whilst penetrating with the other
double penetration solo (you can easily bend two adjacent heads together)
mutual double penetration with a friend
to thwart off a burglar in the night – just chuck it like a throwing star!
Why this is the dildo you never knew you needed:
It's unique, a true conversation starter!
Custom colours and a glow in the dark option!
Hand-made in the good ol' USA
Great for parties and teambuilding events
Easily cleaned and sanitized
Unique looking but not at all weird to use
Ideal for couples, throuples, solo play and orgies!
Bath, shower and pool friendly
Fun for religious and horror film fanatics – what better toy to recreate that famous "masturbation" scene from The Exorcist (1973). You know the one!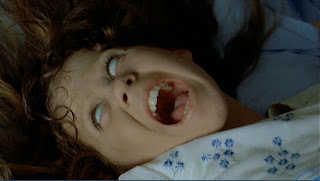 Bang For Your Buck
The Crucidix is available on Etsy for the regular price of $99 USD, however, you can get yours for a limited time (until September 30th, 2019) for just $74 USD, which is an absolutely amazing price for a quality toy that you can do so much with. It would be a sin not to get one. I don't know what would possess you not to. "The power of Christ compels you!" Too far? Okay I'll stop, but honestly, get yourself a Crucidix!
Overall Rating
I'm really a fan of this brand and this toy. Wayne from Crucidix has been a patient gem of a man while I tested and retested this behemoth toy and he gives excellent customer service. I'm excited to see what else he comes up with. Life is too short for boring dildos! I am more than happy to give this 5/5 hearts and the Fawkes' Faves seal of approval!