He's a good boy.
He's smart and educated, , confident, kind and funny. He's generous and affectionate, he's curious and thoughtful, and an excellent boyfriend. He turns me on. He pleases me.
He's submissive and eager to please. He is creative and kinky. He's masochistic. He's suggestible and pliant. He's obedient. He's a slut for pain and cum and humiliation. He works tirelessly for my pleasure while I deny his.
He's mine, I'm his Daddy and he is such a Daddy's Boy.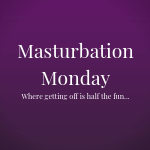 Masturbation Monday is a weekly link-up where erotica writers and sex bloggers share their naughtiest stories and essays … you know, the kind that make you want to scroll through one handed. Hot hot hot stuff … check it out by clicking the badge.
So far so good! The Blog Days of Summer is a personal challenge to publish something to this blog every day in August and so far, I'm on track. Click the badge to see who is writing along with me!